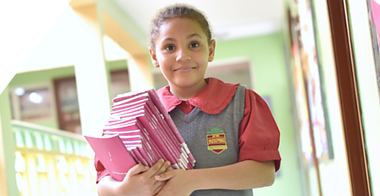 Apply for Admission
We are one of the foremost British international schools in Lagos and Nigeria; we provide a well-rounded education that enables our students to develop vital life skills and excel academically. Here is a summary of our admission procedure.
Leading British International School in Lagos & Nigeria
Greensprings School was established in January 1985. As a result of our rich curriculum and the excellent academic performance of our students over the years, our school has become one of the most sought-after international schools in Lagos and all over Nigeria.
At Greensprings, we understand how boys and girls grow and learn. Therefore, we use a modern curriculum that makes learning easy for our students. Furthermore, all our teachers are certified, and our classes are equipped with state-of-art learning facilities.
Although we are one of the few British international schools in Nigeria that strictly run a British curriculum, we are proudly Nigerians. While we train our students to become global citizens, we celebrate the values and heritage of Nigeria.
We adopt the Montessori Method in our Preschool; the International Primary Curriculum (IPC) in our Elementary School; the National British Curriculum, which is designed to effectively prepare our students for the International General Certificate of Secondary Education (IGCSE)examination, in our Secondary School; and the International Baccalaureate Diploma Programme in our Sixth Form.
Redefining Education in Africa
Our mission is to lead holistic, inclusive, innovative world-class education in Africa. For this reason, we have adopted different approaches and tools that make learning enjoyable for our students. These approaches and tools include the use of activity-based learning, virtual learning environment, among others. In addition to that, we are the first Thinking School in Nigeria, and we encourage our students to be critical thinkers.
Our twenty-first-century learning environment and unique teaching approach make us one of the tested-and-trusted British international schools in Lagos and Nigeria.
Our School
Students Enrolled to date
What our parents say
'The teachers are attentive to the students and have their best interest at heart' 
'I appreciate the effort the school is putting in to build the children in all areas'
'Greensprings is helping to educate a total child'
The idea of the house point is fantastic.
Child centredness cannot be over emphasised. I love that the school focuses on this. Please keep it up'
'I like the way the students are being encouraged to be confident in themselves. It helps good development'
Fantastic school content! Super happy with teachers!
'The school remains number one in providing quality education. I am very proud as a parent because I can see my child making steady progress in all areas'