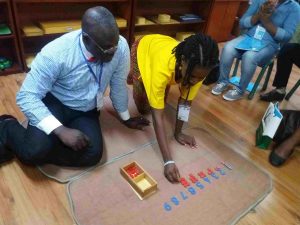 The 2018 Easter Montessori workshop, which marked the 10th year anniversary, was held between Tuesday 10 and Thursday 12 April, 2018. It was a huge success. There were many participants from states like Ogun, Lagos, Anambra, Edo, Delta, Oyo, Ondo, Nassarawa and the FCT Abuja.
Topics explored were: etiquette and comportment, Montessori and elementary mathematics curriculum, practical life exercises and thinking skills in Schools. The keynote address was given by Ms Omobolanle Kalejaiye, the founder, Discovery House Montessori School Lekki.
There were positive feedback from participants who attested to the fact that Greensprings Training College Lagos is indeed an excellent centre for the continuous professional development of teachers and other professionals.
The Greensprings Montessori center is an arm of the Greensprings Training College and it is accredited by the Montessori Accreditation Council for Teacher Education (MACTE).
10th Easter Montessori  workshop in Pictures