Three students from our Lekki campus, Segun Balogun, Adewale Saliu and David Onukwugha, have made Nigeria proud at the 2023 Conrad Challenge held this February. At the competition, the students represented Greensprings School as Team S.A.D – an acronym they formed using the first letter of their first names – and emerged as the overall best in Nigeria, for creating a smartphone application that connects craftsmen with people who need their services.
Their innovation won them $298,000 worth of scholarships for their college tuition, an exclusive invitation to represent Nigeria at the Global Conrad Summit in April at NASA's Johnson / Kennedy Space Center, USA, and ₦1 million naira cash prize.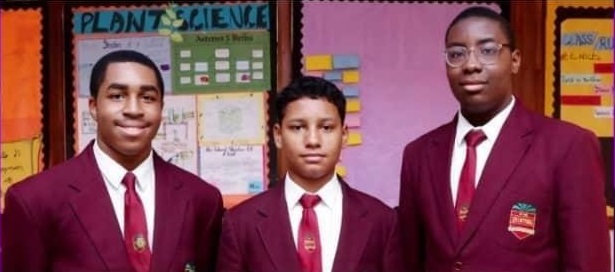 Speaking on our school's participation in the challenge, Acting Deputy Director of Education, Mrs Feyisara Ojugo said our school presented 5 teams out of the 230 teams from several schools that participated in the competition. 4 of the 5 teams made it to the finals, with Team S.A.D emerging as the best in the cyber-technology and security category, and the best in Nigeria thus claiming the grand prize after weeks of rigorous efforts.
Apart from the awards given to the winning team, each of the 15 students that made up the 4 finalist teams received $60,000 worth of scholarships from Clarkson University and awards of excellence. 
Expressing her pride in the students' accomplishments, Mrs Ojugo said that beyond winning the competition, she is pleased that our students were able to develop an app that would help to solve a specific challenge in the country by connecting craftsmen with people who need them, thereby giving access to a larger market without the limitations of geographic location. It also enables instant access to their services at the convenience of the customer, without the hassle of driving around endlessly in search of workmen. She expressed satisfaction that Greensprings students are able to apply what they learn in the classroom to solving societal problems. 
She remarked, "I want to say congratulations to all the teams that participated in the competition, and I am super proud of our students for emerging as winners of this year's Conrad Challenge. Beyond developing the winning app for the competition, our students have put out a service through tech to help link artisans with those who need their services in a prompt and efficient manner.
"This year, we embedded coding in our curriculum as a core subject that all our students should take. This is hinged on our understanding of the fact that coding is the language of the future. I am happy that the students are taking what they learn in the classroom to solve real-life problems. I can only look forward to more achievements from our students. A big congratulations to the winners of this year's Conrad Challenge!"
The Conrad Challenge is a purpose-driven innovation competition with the aim of creating the next generation of entrepreneurs who will change the world.