Dear Parents,
It is that time of year again when we gather together after a long departure – the beginning of a new school year. Welcome back to new and returning parents. While you are not part of the teaching staff you are just as important to your children's education as we are.
Your children receive the best education when you and our dedicated teachers work as a team. Together we can achieve wonderful things when your children are inspired by your support, enthusiasm and involvement.
During the last school year we began the Virtual Learning Environment (VLE); laptops/ netbooks and androids were given to all the students in Years 1 to 11, including Pink Class. It was generally an exciting phase in the school as we transited from white boards to electronic ones. Teachers also underwent training in the use of IP boards.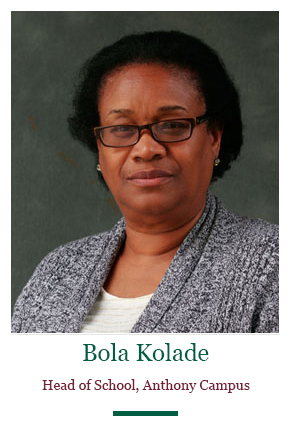 This session, we shall be more engaged with building up the capacity of our students. We recognise that learners cannot all be at the same place in their learning curves and for this reason we ensure that learning is differentiated to meet their individual learning needs. Before we left for the summer vacation, we produced transition documents which highlighted each student's level and targeted the next level they ought to attain by the end of this school year in each of their subjects. This exercise provided teachers with data which they can use to set objectives and map out strategies to extend the students and move them on.
Teaching a class of 24 students is teaching 24 people with different learning styles and different abilities. No two students are exactly alike; some would be high-fliers, some may be struggling, while others would be somewhere in between. This is where the differentiated learning programmes become useful tools in ensuring that all our students' learning needs are met, and that they receive the maximum benefit from their learning experience while they are with us and for the future.
Based on the transition documents, students who are crossing over from Lekki campus, or those who are moving up from one year level to another and especially those joining the Secondary school from the Elementary school are easily flagged up and recognised for their special talents – or concerns. This would significantly reduce the number of students that could have fallen between the cracks. Children who are musically inclined, or are great athletes, or whose strength is acting, will continue to flourish and excel, and the Greensprings community would be richer for it.
There is lot of adventure ahead of us in our classrooms, and I urge you to take time from your busy schedules to become familiar with our school and assessments procedures as these will be further discussed during the Year Level Parents' Forum, Elementary Parents' Workshop, Montessori Workshop and Open Day.
We shall appreciate your assistance in creating a home-work friendly environment at home as we do in the boarding house that will allow your children to excel.
In closing, I thank you for your commitment to your child's education and I look forward to seeing you in the very near future.