Every parent wants their children to succeed in life however, most parents have no clue on the appropriate steps to take, in guiding their children towards this objective.
While some parents would love their kids to excel academically, others prefer their kids to be more successful in sports, music or even politics.
Some have gone ahead to choose a perceived path to success for their children, without providing the required basic foundation.
With about 40 years of experience in education and constant engagement with students, parents and teachers; we at Greensprings School have discovered the most important thing any child needs to succeed in life.
Here is the verdict! Your child needs a WELL-ROUNDED EDUCATION.
A child that has a well-rounded education is equipped with relevant skills to be able to manage complex situations.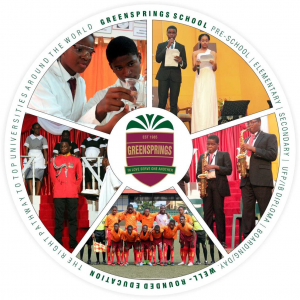 There are five key components of a well-rounded education:-
1. Academic excellence

2. Intellectual, cognitive and presentation skills
3. Music and performing arts
4. Sports and recreation
5. Social skills and community service
Greensprings has been a co-educational school for about 40 years. Well-rounded education is of paramount importance at Greensprings.
Our mission is to promote lifelong learning in an open and caring atmosphere that motivates students to be confident and responsible global citizens.
We believe that a well-rounded child will always have an edge to succeed in this ever-changing world.