You must have heard the proverb "health is wealth" about a million times because, in truth, the greatest wealth that one can have is good health. Maintaining a healthy diet can help prevent many lifelong health problems such as obesity, heart disease, high blood pressure, and type 2 diabetes. 
Eating well can also enhance brain development for kids and support growth and development into adulthood. However, getting kids to eat healthier food can be challenging, especially because they are exposed to many unhealthy food choices and snacks ranging from French fries to soda and pizza. 
If you want to cut back on junk food, then you'll need to introduce tasteful healthy alternatives. That's why we're sharing these delicious and healthy snack recipes for kids. 
Healthy Snack Recipes for Kids
According to information for parents from Canadian Pediatricians, children need 3 meals a day and 1 to 3 snacks (morning, afternoon and possibly before bed). 
Healthy snacks serve as an easier way to gradually introduce your kids to healthier food choices. You can start by swapping unhealthy options for healthy ones, like ice cream for a homemade smoothie, or potato chips with baked chips and nuts. While doing this, be mindful of your children's allergies to certain foods like nuts or milk. 
Advisably, speak to a dietician or nutritionist before deciding on healthy snack recipes for your kids. 
#1. Whole Wheat Baked Chin Chin
This is a crunchy deep-fried snack that can be soft if your kids find regular Chin Chin difficult to chew. You may already know that Chin Chin is a signature Nigerian snack, but are you aware that the ingredients it's made of, like shredded coconut and raisins, have lots of health benefits?  See the recipe.
#2. African Salad 
African salad is a healthy Eastern Nigerian snack known as Abacha. It's known as an appetizer and can serve as a light healthy snack for your kids. It is made up of garden eggs, onions, shredded egg leaves and oil beans seeds which are rich in nutrients. See the recipe.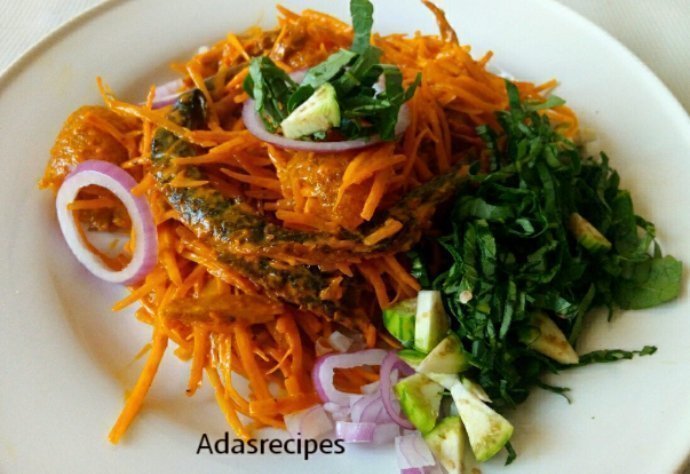 #3. Honey roasted peanuts 
Honey roasted peanuts are a nice way of serving peanuts to both kids and guests. Feel free to use raw peanuts if you don't want it roasted. A serving of this snack contains high levels of protein, unsaturated fats, vitamins and minerals like iron and magnesium.  See the recipe. 
#4. Monster Trail Mix Bites 
If you're looking to turn your kids favourite cookie into a healthy snack, try Monster Trail Mix Bites. You'll need rolled oats, chocolate chips, peanuts, raisins, peanut butter and honey. See the recipe.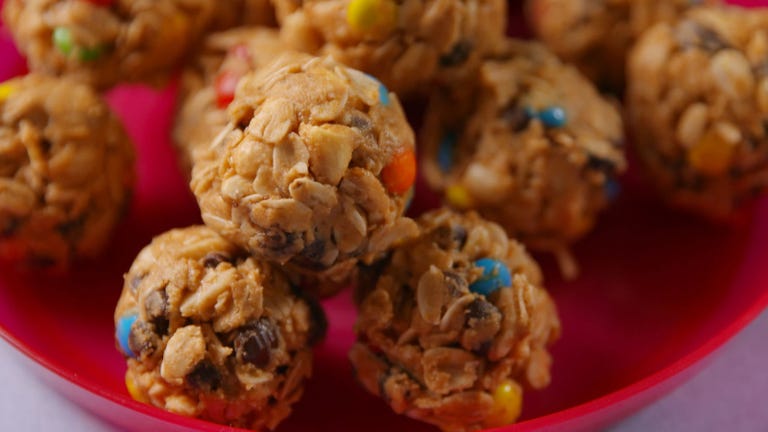 #5. Fro-yo Fruit Bites
With yoghurt, whole milk, honey and a variety of berries, you can make your own Fro-yo fruit bite for dessert. Fro-yo is the short name for frozen yoghurt which contains live probiotic cultures (good bacteria) that can help lower blood pressure and improve the immune system. Berries are also packed with vitamins and fibre which is important for a healthy digestive system. See the recipe. 
#6. Rainbow Fruit Skewers 
This is a fun way to get kids to eat lots of fruits. It's also very easy to make and the kids can help too. With a few skewers and slices of fruits like pineapple, mango, pawpaw, grapes and strawberries, your rainbow fruit skewers will be ready to eat. See the recipe.
#7. Mango and banana smoothie 
Is your child craving something juicy? Make a mango and banana smoothie. Besides being super easy to make, smoothies are great as afternoon snacks and a healthy choice especially when loaded with fruits and vegetables. See the recipe. 
#8. Turkey and avocado toast 
Protein-rich, low-fat turkey and vitamin-packed avocado make a good energy-boosting snack. This is prepared with ciabatta bread, mashed avocado and lime. See the recipe. 
#9. Dried fruit energy balls
Boost your kid's energy levels with dried fruit energy balls. Grab some dried apricot, dried cherry, coconut oil and toasted sesame seed. Throw it into a bowl and shape it into walnut-sized balls. See the recipe.
#10. Banana wheat bread 
Everybody loves banana bread, so why not turn it into a healthy snack for your kids? With a banana flavoured whole wheat loaf, use avocado as a spread instead of butter and it's ready. Serve it warm and toasted. See the recipe. 
#11. Chewy honey granola bars 
These bars combine the sweetness of chocolate and honey with the chewiness of raisins to form a healthy snack that kids will love to munch on. Granola bars made with the right ingredients can be a source of fibre and protein. See the recipe. 
#12. Cornbread muffins with honey butter 
These healthy snack recipes for kids can be a major way to try out new delicacies in your kitchen. Cornbread muffins are a classic and take about 20minutes to prepare, then bake. See the recipe.
#13. Almond coconut waffles 
Almond coconut waffles contain only the good stuff. No excess sugar or fat, just a delicious and easy snack that your kids can have for breakfast or dessert. See the recipe. 
#14. Peanut butter banana roll-up
Need a healthy breakfast for your kids to start the day? Here's one you can make with just five ingredients. See the recipe. 
#15. Tuna and egg salad 
When served with toasted bread as a sandwich, tuna and egg salad is transformed into a familiar snack that kids love. To make it extra healthy, add lettuce leaves. See the recipe.
Kids always want delicious and easy to munch snacks. With these healthy snack recipes for kids, you can get kids to eat healthier even if they usually crave junk food. The more appealing the snack, the more they'll crave it. It's definitely a win-win!