Vision Board for kids is a collection of words, phrases and images that represents what a child hopes to achieve in a set time.
It is important to know that every child has something that they want to bring to life and without it being clearly stated, it will be wearisome to direct their efforts and attention towards accomplishing them.
Vision boards in this regard are deemed effective to keep a child motivated and focused as they are a visual reminder of their intentions which also helps in shaping their thoughts and daily actions.
A child's vision board may include goals for school, personal achievements, recreation (sports), financial and career goals.
To help you create a seamless vision board for kids, we have highlighted some benefits, key questions, tools and processes to enable you to make a vision board with your child.
Benefits of a Vision Board for Kids
Some of our students were asked how a vision board has helped them in achieving their personal goals and we came up with the following importance of a vision board for kids: 
It encourages them to dream big:
It is a major parental responsibility to nurture children's unique qualities and help them reach their full potential.
As a parent, you will not only be assisting your children in realising their potential but you will also be providing them with the drive they will need to dream big when you create a vision board.
Children are natural dreamers and there are no limits to what they can achieve when these dreams are nurtured properly.

Vision Board for kids helps them to be focused: 
Vision boards are a powerful tool for helping your child remain focused. It keeps children inspired and motivated to work towards their goals when challenges try to divert their attention.
It encourages them to solve problems and overcome challenges:
Every day, children deal with a range of issues, from the classroom to the playground. However, very few of them possess a solution for resolving those issues. With a vision board, a child will be motivated to address these challenges.
It boosts their creativity:
A vision board is also a great way for children to showcase their creativity. With a vision board, your child will be constructing a representation of their dreams as they select images and words that speak to them. Your child will have a stronger sense of purpose when their aspirations and passion are written down and clearly spelt out.
Vision board questions for kids 
Here are some helpful questions to ask your child to help them build a vision board:
What are some things that make you happy?
What are your favourite hobbies or activities?
What kind of school, college or University would you like to go to?
What is your dream job?
Where do you enjoy going on vacation?
What kind of sporting activity would you like to learn?
Which famous people inspire you?
What skills do you want to learn or improve on?
What words make you feel strong and powerful?
In what way would you want to help the world?
Tools you will need to make a vision board for kids
Here are some materials you will need to make a vision board. They are inexpensive and readily available at your nearest stationery:
A foam board or chart paper
Sticky notes/colourful papers (to write quotes/affirmations)
Old Magazines (to cut out relevant images/photos)
Scissors/Razor
Glue
Markers/Colourful pen
Stickers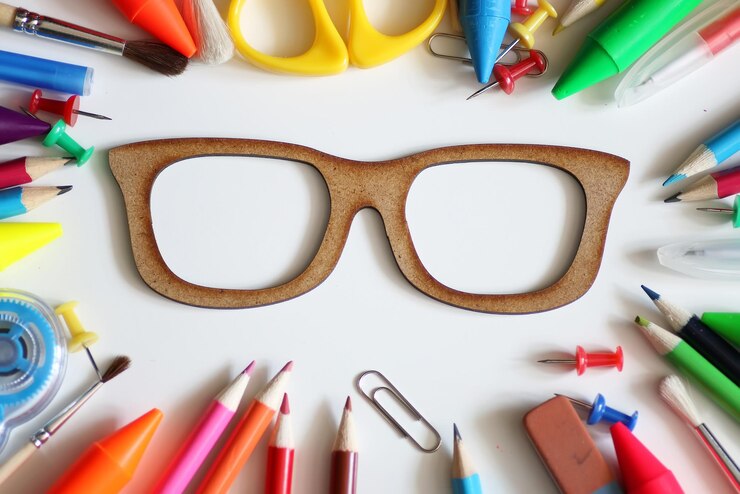 Also, if your child likes drawing, encourage them to use this talent to create unique drawings for their goals while they create the board.
Steps to create a vision board for kids
1. Develop A Quiet Time:
The first tip to creating a vision board is to set up a quiet time with your child. A quiet time is a great period to set new goals and re-open your child's mind to new opportunities.
Pick out a free time that works for you and your child — at least one to two hours when there are no distractions.
2. Brainstorm:
After you have scheduled a quiet time, the next step is to generate as many ideas as possible without worrying about how good they are at the moment.
Write down a rough sketch of your child's interests and goals. This goal could be for the next school quarter or year. You can also use the vision board questions listed above as a guide for your child.
3. Set goals and prioritize:
This is the stage where your child comes up with a clearer variety of goals. Guide them carefully through this process by helping them sort and prioritize their goals. It is important to ensure that the goals are age appropriate and are not overwhelming for your child.
4. Make a simple structure for the board:
Arrange the goals your child came up with on the board in a creative and exciting way. Try out several mixes of quotes, phrases and images that support the concepts your child has in mind. To have a better view, we suggest that you roughly distribute the ideas on a poster board. You can also jot them down in pencil on the board for easy reference.
5. Get images and words for the board:
Go through old magazines and newspapers along with your child and pick out images and quotes relevant to your child's vision board. You can creatively cut out words with fun and fancy fonts/illustrations on the board.
6. Personalise the board:
To make the board feel like it belongs to your child, we suggest you also include personal items such as stickers or drawings. After you have finalized the number of pictures and phrases to use, paste them on the board with glue.
7. Display and review the board:
Finally, mount the board around specific areas in your house. The board can be placed on the wall next to their study table, by the mirror or in the dining room so they could see it every time.