According to research, children who eat breakfast are physically active and do better in school. This is because the food eaten in the morning helps give them the strength and energy needed to do school activities such as writing, counting, listening, note-taking,  among others. On the other hand, children who skip breakfast tend to feel dull, tired and irritable. Therefore, as a parent, it is important to always serve your child a healthy breakfast.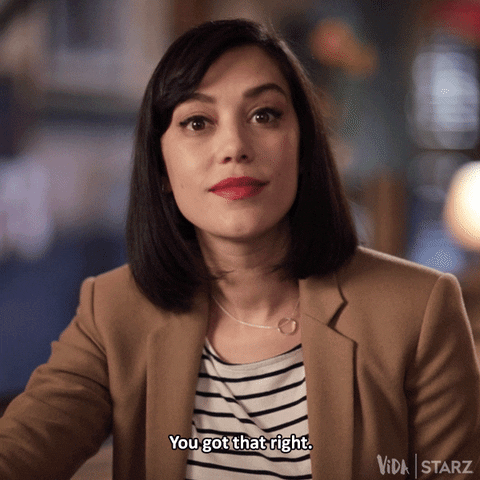 This post will take you through six (6) healthy and easy breakfast ideas for kids. The breakfast ideas include foods that are rich in carbohydrates, protein, vitamins and other essential nutrients. Some of the easy breakfast ideas for kids that are discussed in this post are Nigerian foods, while others are foreign foods that have become widely eaten in Nigeria.
To make it easy for you to prepare the foods for your child, this post also includes the ingredients and the cooking direction of the foods that make up the easy breakfast ideas for kids.
Importance of Serving Your Child a Healthy Breakfast

It has already been stated above that children who eat breakfast are likely to be more active in school. Beyond that, there are other good reasons to ensure your child eats in the morning before going to school. Here are some reasons:
Better concentration at school.
Improved learning and problem-solving skills
Harnessed creativity
Better hand-eye coordination
Physical alertness
6 Healthy and Easy Breakfast Ideas For Kids
1) Yam and Egg Sauce
The food topping this list of easy breakfast ideas for kids is Yam and Egg Sauce. The yam is boiled the normal way, while the egg sauce is made using sautéing pepper, onions, tomatoes and eggs. This energetic meal can be eaten not only as breakfast – but can also be eaten at any time of the day.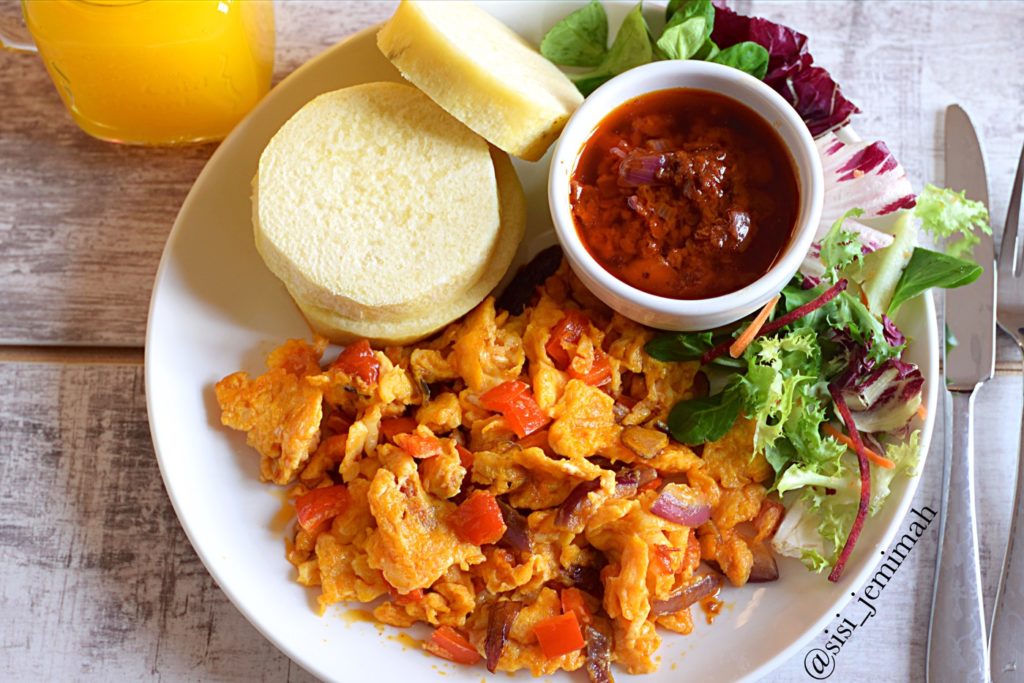 Ingredients

Slices of Yam
Eggs
Tomatoes
Onions
Pepper
Carrots (optional)
Green Pepper (optional)
Salt and Seasoning Cubes
Curry/Thyme
Cooking Directions
Slice and peel the yams carefully; then boil with water and salt
Chop the onions, carrots, pepper, tomatoes and other veggies you want to add
In a frying pan, heat some oil; then stir-fry the chopped veggies. Do not add water to it
Add the seasoning cubes and other spices you want to add. Stir-fry it for about 1-2 minutes
Break the eggs into a bowl; add salt and whisk it thoroughly till it is fluffy enough to be fried
Reduce the heat of the stir-fry veggies and pour the eggs into the pan. Stir gently at intervals
When the egg is fried, serve it with the yam and enjoy!
2) Pancakes and Sausage
Another meal on this list of easy breakfast ideas for kids is pancakes. Technically, pancakes can be said to be the "black canvas of the breakfast realm." The food is a perfect breakfast because it can be eaten with almost anything: mixed veggies, eggs, syrup, honey, sausages … you name it!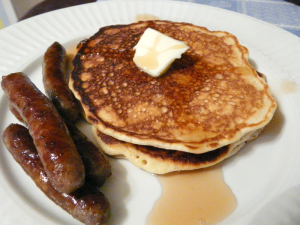 Pancakes are incredibly filling and children love them. Here's exactly how to make this easy-to-prepare meal for the family.
Ingredients
All-purpose Flour
Baking Powder
Salt
Sugar
Eggs
Milk (Optional)
Sausage
Oil
Pancake Syrup
Cooking Directions
In a plastic or glass bowl, add the flour, sugar, baking powder and salt, and then mix together
After that, break the fresh eggs into the mixture
Then, add water and mix the pancake batter till it is smooth and without lumps
In a frying pan, add a tablespoon of oil and heat for about 50 to 60 seconds
Pour a ladle-full of pancake into the heated oil. Remember to set the heat to medium
When bubbles form on top and the edges are done, flip the pancake over to fry the other side. Fry it till it is golden brown.
Continue this process until the pancake batter is finished
When you are done, heat some oil in a pan to fry the sausage. Drain in a stainless sieve and put on a plate
P.S: It is important to note that this meal can be prepared in several ways. You could check here for more pancake and sausage recipes.

3) Club Sandwiches
Club sandwiches are the best breakfast option for those early mornings when you do not have so much time on your hands. Although they are served mostly in hotels, during flights, and when people are having office meetings, they are one of the easy breakfast ideas for kids. Club Sandwiches could even be a lunchbox staple for your kids to eat at school. The best part? They take less than ten minutes to prepare, and they are nutritive.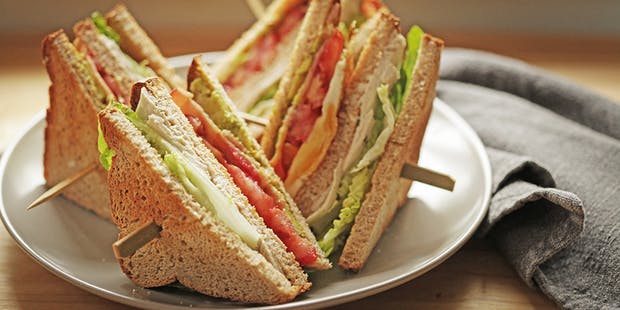 Ingredients
Bread Slices
Hard-Boiled Eggs
Deseeded tomatoes
Butter
Mayonnaise
Cabbage
Cooking Directions
First of all, remove the crust from the bread (this is optional)
Use an egg slicer to slice the eggs
Mix the mayonnaise, eggs and vegetables together.
In another plate, mix the sardine and butter together. The butter helps to mask the strong smell the sardine produces
Spread the sardine mix on a slice of bread, and use another bread slice to cover it.
Spread the mayonnaise, and then repeat the entire process till you are done with the slices.
Cut into a preferred shape and serve to your child
4) Oatmeal and Raisins
Oatmeal is another food you should consider when thinking of healthy and easy breakfast ideas for kids. This convenient dish is super-fast and fat or protein could be added easily. In addition to that, butter, milk and other variations could be added. For children, raisins are the perfect additives because of their chewy nature. Oatmeal and raisins are easy to prepare – they take less than 7 minutes, depending on the quantity.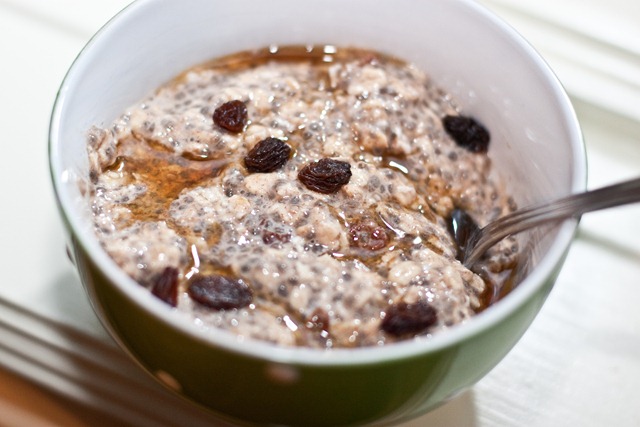 Cooking Directions
Empty desired quantity of oats into the pot.
Add water, salt and sugar and stir carefully.
When it has thickened, add the raisins, and then stir occasionally.
Serve the oats in a bowl and enjoy!
For more delectable oats recipe, click here!
5) Boiled Sweet Potatoes and Corned Beef Sauce
A great meal that should never be excluded on this list of easy breakfast ideas for kids is sweet potato and corned beef sauce. Asides from being lip-smacking, the cooking directions are pretty much straight forward. It is good for days when you just don't feel like eating yam. Sweet potato could be eaten with pretty much anything, but it tastes a whole lot better when it is eaten with corned beef sauce.
Ingredients
Sweet Potatoes
Corned Beef
Onions
Roughly Blended Pepper
Vegetable oil
Curry/Thyme
Seasoning Cubes
Salt
Cooking Directions
Peel the sweet potatoes with a small knife or a potato peeler.
Put it in a pot and boil till it is tender. When it is ready, set it aside and put in a sieve.
Heat up the oil in a pan and pour the roughly blended pepper into it. Add the chopped onions and stir carefully.
Add the curry, thyme and other seasoning cubes.
Empty the corned beef into the pot and stir for about three minutes. Do not let it overcook.
Serve it with a glass of fresh juice!
6) Pasta and Bacon
A particular meal that kids never get tired of eating is pasta. Whether it is spaghetti or macaroni, children absolutely love it. Little wonder why it is on the list of our easy breakfast ideas for kids. This pasta variation comes with bacon, and you could easily get it in any store or supermarket close to you.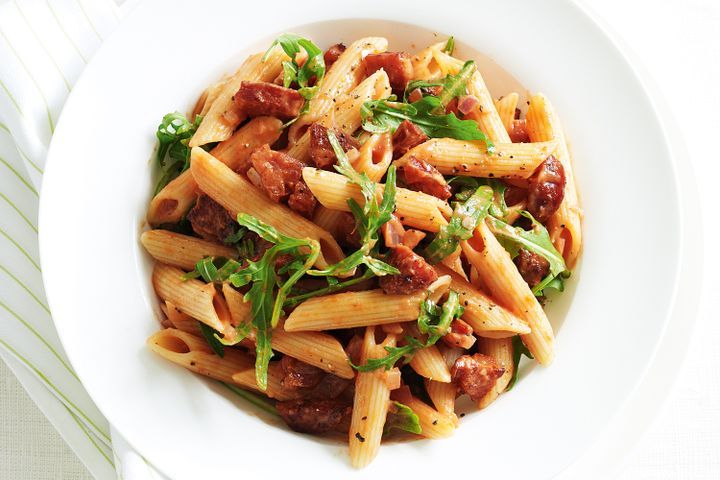 Ingredients
Pasta
Bacon
Vegetable Oil
Raw Eggs
Garlic/Ginger
Cheese
Seasoning Cubes
Salt
Cooking Directions
Pour the pasta in a pot of salted boiling water for ten to fifteen minutes
Drain it and put it in a sieve
Cook the bacon in a large pot till it is soft
Add the garlic/ginger spices, seasoning cubes with a little oil into the bacon
Add the pasta into the pot of bacon, and then break the raw eggs into it
Add the cheese into the mixture and stir on medium heat
Keep string till the eggs are cooked and the sauce is thick
Voila! Your pasta and bacon are ready to be devoured
The above are all the top healthy and easy breakfast ideas for kids. Remember, you can always tweak the recipes to suit your own preferences.